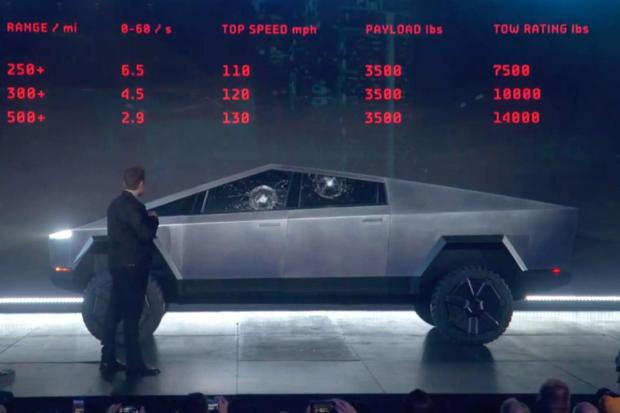 Tesla Shares Bump Higher As Cybertruck Production Finally Begins
TheStreet
Tesla (TSLA) – Get Free Report shares moved higher in pre-market trading after the carmaker rolled out the first version of its long-delayed Cybertruck over the weekend.
The all-electric truck has been subject to a series of misfires since it was first unveiled in 2019, including a botched public launch that saw its designer, Franz von Holzhausen, hurl a heavy metal ball into its 'unbreakable' windscreen. Shortly after that presentation, Musk suggested in a Tweet that orders for his newly-unveiled cybertruck have reached 200,000.
Musk simply Tweeted "200k" in a message that appeared to build on his earlier statement that the truck, which was expected to sell for just under $40,000, had received 146,000 pre-orders
Supply chain disruptions and myriad Tesla distractions have also delayed the truck's production debut, although CEO Elon Musk still expects to produce around 250,000 by the end of the year.
"As with all new products, it will follow an S curve, so production starts out slow and then accelerates. So the Cybertruck is no different," Musk told investors in April after the group's first quarter earnings.
"It is my view, a fantastic product, a hall of famer. But as with all new products, it takes time to get the manufacturing line going," he added. "And this is really a very radical product. It's not made in the way that other cars are made."
First Cybertruck built at Giga Texas! 🤠 pic.twitter.com/ODRhHVsd0t

— Tesla (@Tesla) July 15, 2023
Tesla shares were marked 1.94% higher in pre-market trading to indicate an opening bell price of $286.84 each.
Tesla will publish its second quarter earnings after the close of trading on Wednesday, with analysts expecting a bottom line of 79 cents per share, a 4% increase from last year, with revenues rising 42% to $24.6 billion.
Tesla delivered a record 466,140 new cars over the second quarter, the company said in a Sunday statement, up 83.5% from a year earlier and 10.2% north of the 422,875 tally reached over the three months ended in March.
Analysts' forecasts for deliveries ranged from 440,000 to around 450,000, with Refinitiv pegging the March quarter target at 448,000.