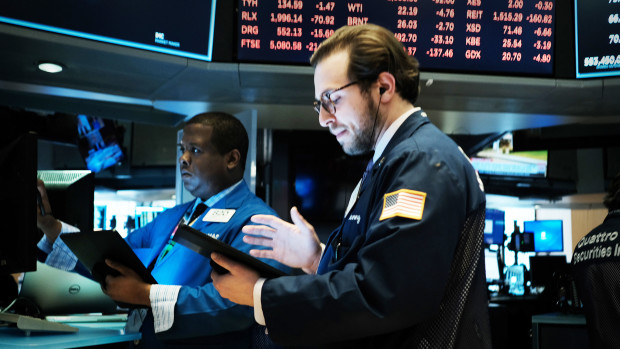 Stocks Edge Lower, Earnings Week, Tesla, Microsoft United Airlines
TheStreet
Five things you need to know before the market opens on Monday, July 17:
1. — Stocks Slip Lower As China Data Weighs
U.S. equity futures slipped lower Monday, while the dollar extended declines from its worst week of the year, as investors reacted to weaker-than-expected economic data from China while preparing for a busy five-day session of corporate earnings on Wall Street.
China's National Bureau of Statistics said second quarter GDP edged only 0.8% higher when compared the first three months of the year, while expanding 6.3% on an annualized basis amid a post-Covid recovery that continues to underscore fundamental weaknesses in the world's second-largest economy.
A modest upside surprise for industrial production data for the month of June, as well as market closures in Hong Kong and Japan, capped investor reaction in overnight trading, but the overarching concerns will nonetheless bleed in to U.S. trading later in the session.
Crude oil prices, in fact, traded sharply lower in overnight deal, even with the greenback falling another 0.11% on foreign exchange markets, as investors pared demand bets from the world's biggest energy importer on the back of the disappointing GDP data.
WTI crude futures for August delivery were last seen 19 cents lower at $75.18 per barrel while Brent contracts for September, the global pricing benchmark, fell 19 cents to $79.72 per barrel.
In the bond market, benchmark Treasury bond yields held to levels seen during the late Friday session, which followed stronger-than-expected earnings from JPMorgan, Citigroup and Wells Fargo as well as a big boost in the consumer sentiment reading from the University of Michigan's closely-tracked survey.
Benchmark 2-year Treasury note yields were last seen trading at 4.728% while 10-year notes were holding at 3.973%.
Heading into the start of the trading day on Wall Street, futures contracts tied to the S&P 500 were indicating a modest 2 point opening bell decline while those linked to the Dow Jones Industrial Average were priced for a 71 point move to the downside. Nasdaq futures were up 5 points.
The Europe-wide Stoxx 600 was marked 0.42% lower in early Frankfurt trading while Britain's FTSE 100 fell 0.3% in London as the pound held at 1.3082 against the weakened U.S. dollar.
2. — Week Ahead: Earnings Take Center Stage, Fed Enters 'Quiet Period'
Corporate earnings will take center stage this week as the second quarter reporting season kicks into high gear, highlighted by Tesla's much-anticipated update on Wednesday after the close of trading.
Around 68 S&P 500 companies are expected to report June quarter earnings this week, including Netflix (NFLX) – Get Free Report, IBM (IBM) – Get Free Report, United Airlines (UAL) – Get Free Report, Johnson & Johnson (JNJ) – Get Free Report and American Express (AXP) – Get Free Report.
Goldman Sachs (GS) – Get Free Report, Morgan Stanley (MS) – Get Free Report and Bank of America (BAC) – Get Free Report will round out the bank sector earnings this week, as well, following a series of better-than-expected updates from JPMorgan JPM, Citigroup C and Wells Fargo WFC on Friday.
Analysts expect collective second quarter earnings for the S&P 500 to fall 8.1% from last year to $428.9 billion, with a modest 1% advanced pegged for the three months ending in September.
Of the 30 S&P 500 constituents reporting so far, 80% have topped Street forecasts, well ahead of the long-term average of 66.4% and the four quarter average of 73.4%, according to data from Refinitiv.
Investors will also navigate June retail sales figures on Tuesday, as well as housing starts and existing home sales data on Wednesday and Thursday respectively.
Federal Reserve officials will enter the traditional "quiet period" before their next policy meeting, which begins on July 25, and will not be making an public comments.
3. — Tesla Shares Bump Higher As Cybertruck Production Finally Begins
Tesla (TSLA) – Get Free Report shares moved higher in pre-market trading after the carmaker rolled out the first version of its long-delayed Cybertruck over the weekend.
The all-electric truck has been subject to a series of misfires since it was first unveiled in 2019, including a botched public launch that saw its designer hurl a heavy object into its 'unbreakable' windscreen.
Supply chain disruptions and myriad Tesla distractions have also delayed the truck's production debut, although CEO Elon Musk still expects to produce around 250,000 by the end of the year.
Tesla will publish its second quarter earnings after the close of trading on Wednesday, with analysts expecting a bottom line of 79 cents per share, a 4% increase from last year, with revenues rising 42% to $24.1 billion.
Tesla shares were marked 1.8% higher in pre-market trading to indicate an opening bell price of $286.30 each.
4. — Microsoft To Keep 'Call of Duty' on PlayStation As Activision Deal Nears Close
Microsoft (MSFT) – Get Free Report shares bumped higher in pre-market trading after the tech said it reached a binding agreement with Sony to keep the 'Call of Duty' video game franchise on the PlayStation platform.
The deal, which followed a series of court victories for Microsoft against the U.S. Federal Trade Commission in its takeover pursuit of 'Call of Duty' maker Activision Blizzard (ATVI) – Get Free Report, will keep the popular game on PlayStation for at least 10 years and potentially address any residual concerns from competition authorities in the United Kingdom, which have yet to sign-off on the $69 billion deal.
"Even after we cross the finish line for this deal's approval, we will remain focused on ensuring that Call of Duty remains available on more platforms and for more consumers than ever before," said Microsoft president Brad Smith.
Microsoft shares were marked 0.58% higher in pre-market trading to indicate an opening bell price of $347.24 each. Activision Blizzard shares leapt 4.36% to $93.99 each.
5. — United Airlines Agrees Pay Deal With Pilots Ahead of Q2 Earnings
United Airlines UAL shares moved higher in pre-market trading after the carrier reached a weekend labor agreement with pilots that includes significant wage increases.
The Air Line Pilots Association, which rejected a contract offer from United last year that would have given its 14,000 members a 14.5% pay increase, said the weekend agreement — which still needs to be ratified — will lead to pay increases of between 34.5% and 40.2% over the next four years.
The deal follows a similar agreement between Delta Air Lines DAL and its pilots' union earlier this year, and just ahead of United's second quarter earnings later this week
"We're pleased to have reached an agreement with ALPA," said CEO Scott Kirby. "The four-year agreement, once ratified, will deliver a meaningful pay raise and quality of life improvements for our pilots while putting the airline on track to achieve the incredible potential of our United Next strategy
United Airlines shares were marked 1.1% higher in pre-market trading to indicate an opening bell price of $53.92 each.